As of January, 2019, Why Not Iron has acquired Elston Metal Tanks' plate and structural rolling equipment.

Our facility is located at 4401 W. Kinzie Street, Chicago, Illinois 60624.

We will continue to offer the same dependable, quality service that clients of Elston Metal Tanks have come to rely on.

You can continue to contact us at 773-486-2873 or 773-379-0700.

We look forward to working with you!

Sean Kelly
Why Not Iron
Elston Metal Tanks is a custom metal fabricator focusing on fabricating sheet, plate, and structural shapes for both manufacturers and the construction industry.
We look forward to working with you.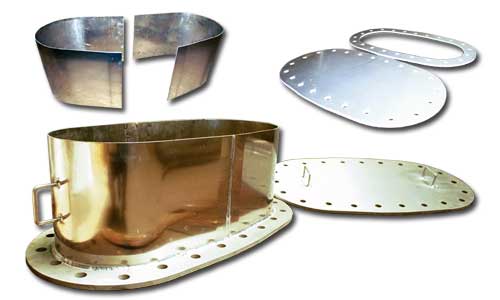 A finished fabrication. Elliptical shape collar with flange and cover fabricated from aluminum sheet and plate. Our customer designed and drew this component on AutoCAD. After they emailed the DXF file to us, we were able to import the flange and cover shapes to our waterjet cutting system. The collar blanks were sheared and rolled. Components were heliarc welded to produce the final product. Because we have the capabilities to do the cutting, forming, and welding ourselves, we were able to give this customer the two day delivery that was required.